Top 20+ Best and High-Paying Jobs in the Future
Here is the list of 20 emerging careers that are set to be the best and most high-paying in the near future!
Top 20+ Best and High-Paying Jobs in the Future
For at least the last 30 years – even longer depending on what movies you have seen – we have heard stories about the impending collapse of the human workforce. You know how it goes. Robots are going to come along and take our jobs. Eventually, artificial intelligence (AI) becomes self-sufficient, and we all die anyway, at which point we will not need a job.
Wondering what job will be in demand in the next 10 years? Well, there are many remarkable careers that can give you the financial stability and peace of mind you're looking for.
In this post, you'll discover some of the fastest-growing and highest-paying careers in demand for the future.
Megatrends in Job Roles
Pearson conducted research into what skills and employment in 2030 might look like and identified some possible trends in job roles:
They forecast that only one in five workers is in current jobs, and that will shrink in the future.
Occupations related to agriculture, trades, and construction, which in other studies have been forecast to decline, may have pockets of opportunity throughout the skills ladder.
In sectors such as education and healthcare, they forecast that only one in ten workers are in occupations that are likely to grow.
Pearson forecasts that seven in ten workers are in jobs where there is greater uncertainty about the future.
Their findings also confirm the importance of higher-order cognitive skills such as complex problem solving, originality, fluency of ideas, and active learning. These will be the most in-demand skills for the future.
Their findings rank knowledge areas, skills, and abilities that will be in greater demand in the future.
Most in-demand skills for the future
McKinsey Global Institute's research report has highlighted the top three skill sets workers will need to secure the best careers for the future. These most in-demand skills for the future are:
Higher cognitive- These include advanced literacy and writing, critical thinking, and quantitative analysis and statistical skills. Doctors, accountants, research analysts, and writers use these.
Social and emotional- These include advanced communication, empathy, to be adaptable, and the ability to learn continuously. Business development, programming, and counseling require these skills. These jobs are also amongst the best careers for the next ten years.
Technological- This includes everything from basic to advanced IT skills, data analysis, and engineering. These future skills are likely to be the most highly paid.
Top 20+ Best and High-Paying Jobs in the Future
1. Physicians and Surgeons
2. Data Analysts
3. Dentists
4. Plumbers and Electricians
5. Computer and Information Systems Managers
6. Nurse Practitioners
7. Cybersecurity Experts
8. Actuary
9. Marketing Managers
10. Software Developers
11. Information Security Analyst
12. Family Medicine Physicians
13. Alternative Energy Installers and Technicians
14. Human Resources
15. Chief Executives
16. Mental Health Professionals
17. Financial Manager
18. Airline Pilots, Copilots, and Flight Engineers
19. Veterinarians
20. Technical Writer
**********
1. Physicians and Surgeons
Photo: aapsonline
Physicians and surgeons diagnose and treat illness while addressing the overall health maintenance of patients. Physicians assess patients, take medical tests, prescribe medications, and give advice on diet and preventive healthcare. Surgeons perform surgical operations to treat injuries, diseases, and deformities.
Physicians and surgeons may work in a clinical setting like hospitals and doctors' offices or in non-clinical settings such as insurance companies, government offices, and nonprofit organizations.
To become a physician or surgeon, you typically need a bachelor's degree along with a medical degree.
The median annual wage for physicians and surgeons in the U.S. was $208,000 in 2020, among the highest of all occupations.
Overall employment for physicians and surgeons is expected to grow 4% by 2029, with approximately 23,000 openings projected every year
Other occupations in the healthcare sector that pay a median annual wage of $208,000 include orthodontists, anesthesiologists, prosthodontists, general internal medicine physicians, obstetricians and gynecologists, and oral and maxillofacial surgeons.
2. Data Analysts
According to the Bureau of Labor Statistics, the projected growth rate for jobs in the field is 16 percent. This is more than three times the average national growth rate for jobs, which is five percent. Couple this with a 2018 median industry pay of more than $118,000 and you're looking at an opportunity to make some serious money. Of course, it's also recommended that you have a master's degree in computer science or another related field if you want to break into the industry.
Data science is also a promising field for people looking to break down walls and shatter glass ceilings in a traditionally male-dominated industry. An article from Forbes detailed that only 26 percent of the jobs in data science in the U.S are held by women. Thankfully, there are terrific programs out there looking to change these numbers. Girls Who Code is one such program designed to offer clubs and immersion programs for girls from third grade through college. The program teaches girls all about the exciting world of computer science and how they can break into this dynamic field themselves.
3. Dentists
Photo: ft
Dentists diagnose and treat patients with dental problems such as gum disease, tooth decay, sensitive teeth and general oral health. They also teach patients about proper diet, flossing, ways to prevent gum diseases and other aspects of dental care.
Dentists can work in hospitals, clinics, or alone in their own business. Others can also work as associate dentists in well-known dental practices.
You must have a bachelor's degree as well as a Doctor of Dental Surgery (DDS) or Doctor of Medicine in Dentistry (DMD) from a certified dental program to become a dentist. You also need to pass written and clinical exams.
In May 2019, dentists earned a median salary of $164,010.
According to the BLS, overall employment for dentists is expected to grow 3% by 2029, with approximately 155,000 projected job opportunities.
4. Plumbers and Electricians
Not all of the best careers for the future will require a four-year undergraduate degree. There are many jobs in America with a desperate need for skilled laborers. A report by the National Science Board projects that there will be 3.4 million unfilled jobs in skilled labor by 2022. There's a serious demand for skilled positions jobs like plumbers and technicians, and these are well-paying jobs with promising career prospects.
One of the best things about skilled labor positions is how quickly you can potentially enter the workforce. Many of these positions require a high school degree and often an associate degree in a related field, but don't necessarily require graduation from a four-year university. Students looking to work with their hands in a high-demand field should give serious thought to jobs as plumbers, electricians, and other skilled trades.
5. Computer and Information Systems Managers
Photo: drkit
Also known as information technology, or IT managers, computer and information system managers are responsible for analyzing computing needs to meet company goals. They design and administer the installation and maintenance of computer hardware and software while ensuring a company's network security.
Computer and information systems managers can work in private enterprises, government offices, nonprofit organizations and schools. They typically work full-time, often putting in overtime hours to come up with solutions when problems arise.
Computer and information systems managers typically hold a bachelor's degree in a computer or information science-related field like management information systems, or MIS. This job requires extensive experience, and organizations usually prefer IT managers with a Master of Business Administration.
The median annual salary for computer and information systems managers stood at $151,150 in May 2020.
Demand for computer and information systems managers is projected to grow tremendously over the next several years. The BLS predicts that employment will grow 10% from 2019 to 2029.
6. Nurse Practitioners
Nurse practitioners are a type of nurse with more advanced training in primary care services than registered nurses. NPs can perform many doctor's roles, like diagnosing and treating health problems, doing diagnostic tests and analyzing results .
NPs can work in any healthcare facility, from hospitals, clinics, and nursing homes to emergency rooms. They typically work full-time.
NPs must have at least a master's degree from a certified institution. You must be a licensed RN before pursuing education in an advanced practice role.
The median annual wage for NPs was $111,680 in May 2020 according to BLS statistics.
The BLS forecasts that the overall employment for advanced practice registered nurses will increase 45% from 2019 to 2029.
7. Cybersecurity Experts
Photo: afcea
Just as the world increasingly becomes even more digital, the need for cybersecurity has grown too. Data breaches are a huge deal and expose the private information of both customers and companies. According to IBM, the average total cost of a data breach is $3.92 million. With so much on the line, it's no surprise that companies are willing to pay handsomely for someone to protect their data.
Median salaries for cybersecurity experts can start at $80,000 for IT Security Consultants and can reach six figures for other positions such as a security director. The best way to start your path in cybersecurity is with, you guessed it, a bachelor's degree in computer science, information technology, engineering, or another related field.
8. Actuary
Actuaries typically work for insurance companies and are responsible for evaluating risk. Actuaries use math, data, and statistics to determine whether their employer should issue a policy to a potential customer—whether that's an individual or a business—and, if they determine a policy should be issued, what the premium should be. Actuaries make evaluations regarding health, life, automobile, homeowners, medical malpractice, and workers' compensation insurance, as well as retirement benefits and other investments.
A degree in actuarial science (which focuses on using math and statistical modeling to assess risk) or a related field (such as math or statistics) is a must. Plus, actuaries need to pass a series of rigorous exams over the course of several years in order to be certified to do the job by the Casualty Actuarial Society (CAS) or the Society of Actuaries (SOA).
9. Marketing Managers
Photo: leverageedu
Marketing managers come up with strategies to help firms maximize profits while ensuring customer satisfaction. They help identify potential markets for the company's products and services while estimating the demand for them.
Marketing managers typically work with top executives because their role directly affects the company's revenue.
Typically, a bachelor's degree is the minimum requirement to land a position as a marketing manager. Some hiring managers, however, prefer a bachelor's degree in journalism or advertising. Any relevant coursework in marketing, management, finance and economics is a plus.
The median annual income for marketing managers in 2020 was $142,170, according to the BLS.
Total employment of marketing managers between 2019 and 2029 is expected to rise 6%.
10. Software Developers
Unless you've been living under a rock (or in a cave without wi-fi) for the last 20 years, you already know how large a role software plays in our everyday lives. Whether it's your favorite social media platform or that new app you can't get enough of, you have a software developer to thank for that.
It's hard to understate just how important software developers are to the modern world. Practically everything you see on your phone or computer was built by a software developer. From the utility apps that let you type reports, to programs that help you schedule and track, down to your favorite video game, they're all thanks to the hard work of software developers. And developers do much more than build the programs themselves, they're also responsible for the updates and fixes that keep your favorite applications running smoothly. It's no wonder developers are in such high demand!
Software developers are also one of the hottest occupations on the market right now. U.S. News and World Report ranked it as their top job overall in their list of the 100 best jobs for 2020 as well as number one in both STEM and technology fields.
11. Information Security Analyst
Information security analysts are responsible for keeping a company's information safe and secure—a top priority for most companies at a time when so much sensitive information is shared and stored digitally. Information security analysts are responsible for everything from researching and testing security solutions, evaluating a company's current digital security processes, identifying and fixing vulnerabilities, managing security threats or breaches, and developing and implementing security solutions and technologies (such as by overseeing the installation of firewalls and the use of data encryption).
Information security analysts need to know the ins and outs of all things cybersecurity and typically hold a bachelor's degree (or higher!) in a technology-related field, such as computer science.
12. Family Medicine Physicians
Photo: amitahealth
Family medicine physicians, also known as primary care physicians, are typically where patients go for periodic exams and the treatment of common health ailments, such as sinus and respiratory infections, as well as chronic illnesses, such as diabetes, asthma, and heart disease.
Some primary care doctors specifically work with adults (internists) or children (pediatricians). Those who treat patients of all ages, from childhood to advanced age, are known as family physicians. Because of their varied patient population, family practice doctors generally manage a wider range of medical conditions.
13. Alternative Energy Installers and Technicians
No matter how you may feel about climate change or the continued use of fossil fuels, there's no question that the role of alternative energy in the world is only going to increase. Whether it's through the increased application of wind energy, wider use of solar power, or developing new electric cars, alternative and renewable energy are vast fields with virtually limitless untapped potential.
One of the most exciting things about alternative energy jobs is how broad a spectrum of careers there are in the field. There's a career for you in everything from construction to engineering, installation, and alternative energy research.
In fact, wind turbine technician is the fastest-growing job in America, and employment is expected to grow by an incredible 108 percent by 2024. For this specific position, you'll likely need to complete a two-year program at a technical school in addition to a high school diploma.
14. Human Resources
People's teams have existed for more than a century, and many would argue even longer. Over the last few decades, technology has steadily altered the way companies manage their employees. Thankfully, the "human" side of the experience is still strong. Additionally, "work from anywhere" has become widely accepted. The human resources department must become proficient in remote work management, chatbot technology, data analytics, and human resources software.
Employee experience will be given greater emphasis, with modern benefits like parental leave, mental health, and financial security.
15. Chief Executives
Photo: feedough
Chief executives represent the highest-paid profession outside of the medical or dental fields. As the highest-ranking employee of a company, the CEO's job is to make critical decisions regarding the management team, steer the organization toward new markets or product areas, and interface with the board of directors.32
While highly paid, many chief executives have daunting schedules. A 2018 Harvard Business Review survey found that the average CEO spends 62.5 hours per week on the job, with about half their time spent in the office and half traveling.
16. Mental Health Professionals
The stigma toward seeking help with mental health is lessening at a time when people arguably need the services of mental health professionals more than ever. It's not a profession that can be automated, and you'd be hard-pressed to find a caring ear from a robot. That's why there's an expected growth rate of 22 percent in the field of substance abuse, behavioral disorder, and mental health counselors between 2018 and 2028.
Society, and insurance companies, are recognizing the growing importance of mental health. That means that there is going to be a much higher demand for professionals who are properly trained in providing mental health services. This includes psychologists, therapists, counselors, and social workers. Like many other medical professions, mental health professionals may also qualify for student loan forgiveness through FELS. Don't forget to make sure your program qualifies to see if you can save on student loans.
17. Financial Manager
As the title implies, financial managers are responsible for managing an organization's finances. Financial managers may be employed directly by a company or they may work for a consulting firm, where they tackle financial management for the firm's clients. Depending on the company or client's needs, a financial manager may be responsible for a variety of finance-related tasks, including identifying financial weaknesses or risks; developing solutions to eliminate those weaknesses or risks; performing financial research; creating financial projections and reports; preparing financial statements; setting financial goals; providing suggestions for how the company or client can hit those financial goals; and suggesting ways to reduce costs, increase profits, or expand into new markets.
Financial management requires an in-depth knowledge of business finance—which they might've gained as accountants or financial analysts, for example—and candidates typically need a bachelor's degree in finance, business, or a related field to get started.
18. Airline Pilots, Copilots, and Flight Engineers
Photo: flyingmag
Working in the aviation industry can mean a lot of time away from home, but it also leads to a nice paycheck in many cases. The BLS lumps airline pilots, copilots, and flight engineers into one category, which generates a mean salary of $186,870 in 2020.43
The pilot, or captain, typically has the most experience operating a plane and oversees the other members of the flight crew. The copilot is the second in command during the flight and helps the captain with responsibilities in the cockpit.
Flight engineers do preflight checks, monitor the plane's cabin pressure, assess how much fuel is being burned, and perform other important duties. However, because of the increased amount of automation in new aircraft, there are fewer jobs for flight engineers than there used to be.
19. Veterinarians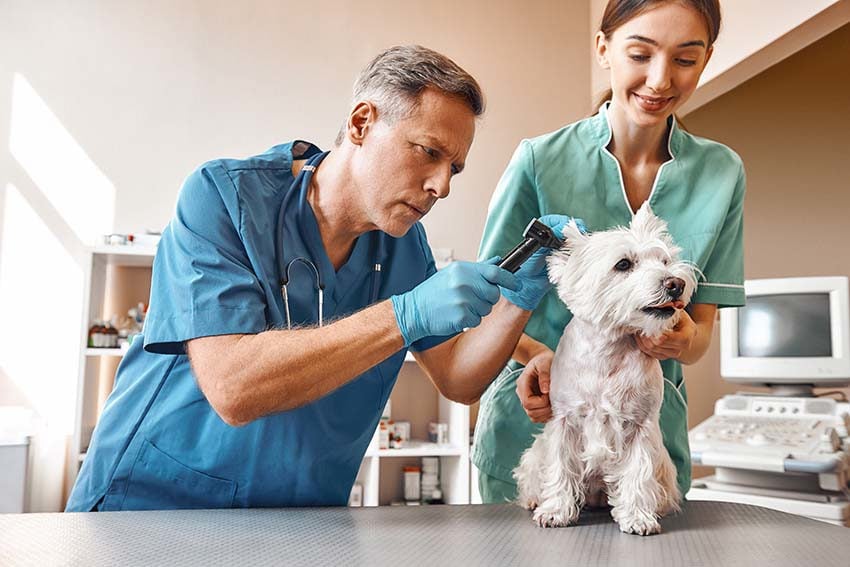 People love their pets, and they're willing to pay a lot of money to take care of them. If you're a compassionate person that loves working with animals, becoming a vet may be the best career for you.
To become a veterinarian, you're going to need a four-year degree in a field like biology, zoology, chemistry, physics, or another related field. You'll also need a Doctor of Veterinary Medicine (DVM) from an accredited program.
Once you have your degrees, you can stand to make a good living as a veterinarian. The 2018 median pay for vets was $93,880 and the projected growth rate for the next decade is 18 percent, more than three times higher than the national average.
20. Technical Writer
Technical writers take complex technical ideas and translate them into language people can easily read and understand—whether that's in the form of journal articles, educational materials, video scripts, tutorials, instruction manuals, or FAQ pages. That means they need to interact with the people designing and creating the relevant products or equipment, for example, in order to understand the ins and outs of what they're writing about and determine what kind of documentation is necessary. Their audience might be colleagues within their own organization, clients, customers, or the general public.
Technical writers often hold degrees in English, communications, or a related field. In order to succeed as a technical writer, you'll also need a deep understanding of computer science, engineering, medicine, or whichever specific technical field you're writing about (in some cases, that might come in the form of a degree or prior work experience in that field).
21. Artificial Intelligence
Instead of worrying about a robot taking your job someday, what if you were the person designing the robot? Artificial intelligence is a dynamic and growing field with a wide variety of occupations, ranging from robotics engineers to natural language processing to artificial intelligence researchers.
Because it's such a new and exciting field, there's a lot of room for growth in the artificial intelligence industry. What's more, it can be a very lucrative career. The New York Times reports that top researchers at big companies are finding salaries in the high six figures. If getting into AI sounds like something you want to do, you'll need at least a bachelor's degree, but a master's degree in computer science is recommended if you want to be placed into one of these larger roles.
5 jobs that will disappear by 2030
1. Travel agent
It amazes me that a travel agent is still a job in 2020. As much as I have laughed at "old school" things on the Contractbook blog in the past, going to sit in a shop so someone can book you a holiday on what looks suspiciously like a 1980s IBM system might top everything. Why would anyone do this when you can do it online?
That said, there is an argument that there is still demand for travel agents, so why get rid of them? However, with chatbot platforms becoming ever more refined, and the impact of COVID-19 on the travel industry likely to be long-lasting, I envisage travel companies will decide to cut out the human element sooner rather than later.
Unfortunately, they will probably not get rid of the annoying in resort human reps just yet.
2. Taxi drivers
Before Uber sold its self-driving car division in late 2020, there was a running joke that Uber drivers were working to put themselves out of work, as Uber reinvested millions of dollars in fare revenues back into its driverless car projects.
While problems beset Uber's automated cars, I still struggle to see how taxi drivers do not become obsolete in the next 10 years. If you run a taxi firm, it would be madness to pay someone money to drive a car for you when you have a vehicle that can drive itself!
Demand may leave a market for human-driven taxis, but these will struggle to survive as automation will drive prices down.
3. Store cashiers
A few years ago, I went into a newsagent in a train station and took a magazine and a drink to the cashier. She then proceeded to walk me over to the self-service area to put my transaction through! Now, I have no doubt (having used to manage one of these particular shops myself) that she was told she had to hit a KPI for % of customers who used the self-serve register - but come on!
In bigger stores at least, where you can now scan and pack your shopping as you do it, avoiding the dreaded "Unattended item in packing area" message, store cashier roles are unlikely to exist in a few years.
4. Fast-food cooks
Fast food restaurants are not shy about showing us that they are trying to rely less and less on the human workforce. Most of them have already made the change to self-service terminals when placing your order, so the next logical step is to move into the kitchen.
Some companies, particularly in the United States, are already starting to prune their workforce, utilizing robot technology to flip burgers and put sandwiches together. In time, your local McDonald's could end up with just a handful of staff members handing out orders made by the robots, although I would not bet against that process becoming automated, too!
5. Administrative legal jobs
These roles are already under threat, with legal administrative jobs and paralegal roles already increasingly performed by automation and digital tools. Automation and digitization will continue to become more refined in the coming decade, and the need for humans to complete these jobs will dwindle further.
While there is a focus on AI in some sectors, this is really unnecessary for things like preparing documents and contract analysis. Legal firms looking to embrace tech can actually get ahead by getting "back to basics" rather than opting for the tool that might sound the most impressive to a client.